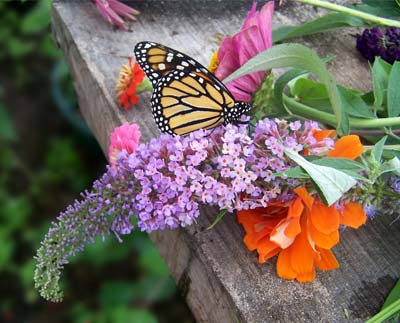 There is an old Native American saying, "If you want your wish to come true, whisper it to a Butterfly". What a perfect way to begin your life together or celebrate a special event -- with the extraordinary magic of a Butterfly Release.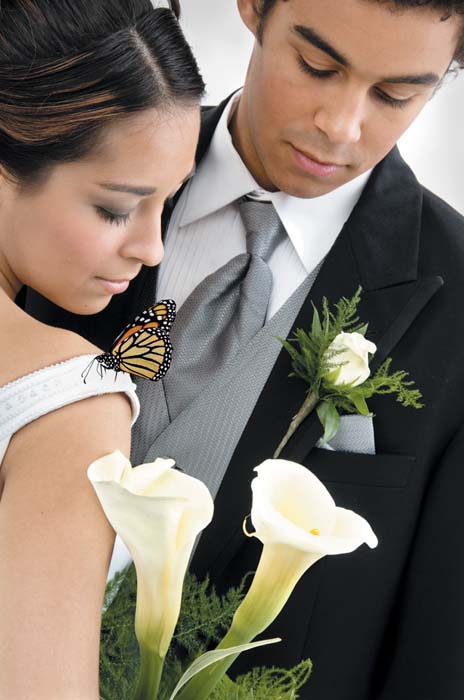 Imagine the awe and surprise as our magnificent Monarch butterflies slowly take flight and alight on nearby floral arrangements and bouquets.
You may choose to do Individual Releases – when the butterflies are released from their own individual envelope providing an unparalleled level of guest participation. For a Mass Release, all of the butterflies are placed in a large decorative box. When the moment comes…the lid is taken off the box and the butterflies flutter away.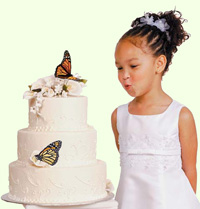 Rainbow's End Butterfly Farm & Nursery also provide beautiful tulle-covered release and viewing cages. Use them as a centerpiece until the butterflies are released so you and your guests can enjoy them throughout your event.
Monarch release season is from mid-May to the beginning of September. We suggest that you place your order 6 weeks prior to your wedding and we require a 50% down payment with your order placement. Full payment is due three weeks before the event. Monarchs fly best in warm and dry weather and sometimes due to unfavorable weather conditions an order may need to be cancelled or changed from release to centerpieces. Because the health of our butterflies is the most important thing to us, we are happy to provide a full refund due to inclement weather.
CLICK HERE FOR WEDDING RELEASE AND CAGE PRICING
PLEASE CALL US SO THAT WE CAN PERSONALLY TALK WITH YOU ABOUT YOUR SPECIAL OCCASSION
These release cages double as beautiful centerpieces!

These release boxes make an elegant statement.

Individual envelopes make everyone a part of your event!

Chinese release boxes are great for small groups.
CLICK HERE FOR FREQUENTLY ASKED QUESTIONS ABOUT RELEASING BUTTERFLIES
For more information on our weddings and other special releases please contact us at info@rainbowsendfarm.biz